The Welsh team 2015
Posted on 2nd August 2015
The 2015 Welsh National results are as follows:

1st & National Champion: Run no. 102 - Aled Owen, Llangwm Cap, 207, run-off winner;
2nd: Run no. 76 - Stan Harden, Bob, 202, second in the run-off;
3rd: Run no. 44 - Kevin Evans, Kemi Ross, 214, third in run-off;
4th: Run no. 43 - Aled Owen, Llangwm Glesni, 210;
5th: Run no. 105 - Glyn Jones (Llanarmon), Cap, 207;
6th: Run no. 77 - Hefin Jones, Casi, 200;
7th: Run no. 30 - Gwyn Lightfoot, Omega Mari, 206;
8th: Run no. Gwyn Jones (Penmachno), Roy, 204;
9th: Run no. 66 - Angie Driscoll, Meg, 195;
10th: Run no. 99 - Kevin Evans Jimmy, 203;
11th: Run no. 24 - Richard Millichap, Don, 202;
12th: Run no. 88 - Steve Lewis, Karven Jake, 194;
13th: Run no. 93 - Gwynfor Owen, Roy, 198;
14th: Run no. 35 - Alan Jones (Defaidty), Spot, 194;
15th: Run no 59 - Claire Ridge, Sian, 187;
Reserve: Run no. 25 - David Howells, May, 194.
Today in Northumberland
Posted on 27th June 2015
27th of June and a new trial was put on by Ron and Kate Macrae, ably assisted by their pet African grey parrot.
Running on 5 Lleyn and Texel x shearling's, every body had a fresh packet of sheep. Thus making a late turn up to gain an advantage a pointless excercise.
It was a large course with 300 plus yard outrun on rough terrain. The left hand gather was through deep reshes, which could disorientate a dog and it running trajectory. It was a simpler gather to the right, but if a dog went over the hill and out of site it could take in a large portion of ground unseen by competitor and Judge.
Thomas Longton from Lancashire took top honours with his competent bitch Maya.
Slightly wrong on her outrun, she wes recommanded to the back of the sheep. She bossed her 5 charges with a goood fetch and drive. She had plenty of power to pen and took a commanding shed when taking two of five on their nose ends to finish in style.
Northumberland and Cumbria
Posted on 20th June 2015
Well we have a really great and eventful start to the open season in Northumberland.
We started the season with a corker of a trial at Gordon Watts. Greenleighton, Corbridge. We ran on some well turned out Texel x ewe lambs. They ran consistently good over a tricky rising hill, down to permanent pasture.
The trial was won by Jim Wilson and Glen from Moffat. Jim is a Scot by birth and has since emigrated to New Zealand. He returned to live at Moffat, but has opted to sell up and return to the better weather in the Antipodes.
Our next venture was to the home of Tony and Marilyn Iley at Shirlawhope. Tony decided to have a morning and afternoon trial, purely as the sheep have been so tricky for the morning runners, and in the past two years all the winners have come from the afternoon trial. David Henderston with Star and Gordon Watt with Huthwaite Storm were the respected winners.
The following week we travelled to the excellent farm of Henry Nelless and family at the Couquetdale trial. We all had to be on our mettle as the Lleyn ewe hoggs were as quick as lightening and found any weakness or dog that was not as fleet of foot as them. A Scottish raider in the form of Cameron Dickson took top honours on a very blustery day.
The next trial was at Blindburn where the sheep were set out at 750 yards away ove a truly willd and rugged hill course. Many tried but only a few ended up on the right side or even found the sheep. Arthur Temple won the qualifier and returned the next day for an even more difficult double gather. Jim Wilson and Jed were the worthy winners over this very difficult course.
Today, we were all at the smaller Alston trial on the local playing fields. With a drizzly start but very close and the midges tucking in to exposed flesh, we were treated to a lovely days trialling. The Wanwood Hill Blackie Hoggs recently gathered were in superb fettle and a credit to the Walton family. A very competent local commitee had every angle covered and their better halves spoilt us with hot bacon butties and burgers and an array of cakes and scones.The sheep were consistent during the day and needed good handling and good dogs to get in the prize list.
The Lake district raiders took first place with a workman like run from Gavin Fearon and Meg. Northumberland Chairman, Bevis Jordan took a very close second place with Sage. The day finished in warm sunshine and good finishes from Joe Relph and Delll and David Henderson with Burndale Chief. Larry Cowper and his England team dog Spot were fifth with Spot and Durham handler John Edgar took the 6th and final place.
Alston is a good day out and the craic bordered on the hilarious.
Northumberland win team competition at the first ever English Nursery League final.
Posted on 10th March 2015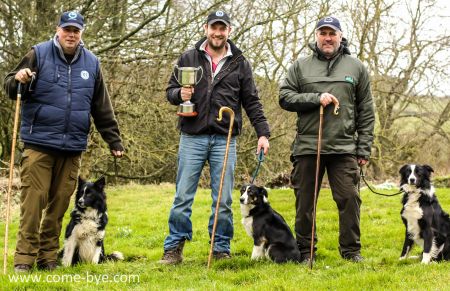 ISDS meeting
Posted on 1st February 2015
A great meeting with lots of things discussed.
National entry fees are going up to £50. This money will go into a National trials Bank account.This will go towards funding the following years National trials. It is a smart idea, thus taking the pressure off the next local committee looking for outside funding.
The theory being that the national first and foremost will be a sheepdog trial, and secondly a money making event.