English National 2013, Devon.
Posted on 26th July 2013
Ricky Hutchinson from Littledale in Lancashire wins his first English
National title with the homebred Sweep. Previously won the English
National Brace twice, and the International Brace Championship twice.
This year's English National was held in spectacular surroundings on
the Filleigh estate in South Molton in Devon, courtesy of the Earl and
Countess of Arran. Held in conjunction with the Devon Country Fayre,
funds were raised for the North Devon Hospice. The weather was hot and
sunny over the three days, with a breeze blowing up the field helping
to lower temperatures. It was overcast on the Sunday, making a cooler
start to that day.
The grass field was long, 720 yards, rising upwards, and with many
undulations. The left hand gather was tricky, opening out at the
narrowing to a place that caused dogs to come in, looking for their
sheep. Many needed a command here to push them out to gather the top
end of the field. Some dogs crossed the course here. Some widened out
too far, losing points in the process. On the right it was even
trickier, with trees and a fenced plantation to confuse the dogs. Early
commands were necessary, and to trust the dogs when out of sight behind
the trees. The Romney cross-bred sheep provided for the first day and
the last day were well behaved, responsive to the dogs around the
course. The Lleyn ewes used on the second day were more difficult to
hold at the top of the field, and appeared more of a challenge. The
sheep tested the dogs in the shedding ring as they were not keen to
separate, but were good to pen.
Wendy Cole set the standard on the first day with Kath (Derek
Scrimgeour's Ben x Fred Ingham's Jess) with a score of 170 points. The
winning run came in the heat of the day, a fantastic run by Richard
Hutchinson with Sweep (homebred, by Wenndale Roy, out of Lyn) gaining
183 points. Sending left, Ricky whistled Sweep on the outrun, and he
went wide at the top. A great run around the course, with a good
finish. Tim Longton was the next to challenge the leaders, losing more
points on the outrun but having an almost perfect finish, just one
point off the shed, gaining 174 points with Bob (homebred by Joe, out
of Carrie). James Howard had a better outrun but few points off in most
sections of their run, so a close challenge, ending on 181 points with
Wisp (Ian Ibbotson's Zac x M. Lund's Star). A good outrun from Thomas
Longton's Maya (Eric Baxter's Cap x Brenda Helliwell's Nel), losing
points mainly on the fetch and in the single, gaining 180 points.
The second day's running saw the third run of the day, Gordon Watt with
Huthwaite Moss (Bobby Henderson's Bill x Stuart Wilkinson's Tess) have
a great run that was not to be beaten. They had a strong finish (182
points). The next contenders were Derek Scrimgeour with Fleece (Geri
Byrne's Ted x Killiebrae Lyn) in the heat of the day, on 179 points
after another strong finish. There was a nail-biting finish to the day
as three team members qualified near the end of the day. Jim Cropper
ran Nidderdale Nidd (Dan x Poppy), losing points in the drive and shed,
gaining 163 points. Thomas Longton qualified his second dog Tot (Jim
Hutchinson's Jim x Richard Hutchinson's Hanna) on 167 points; and David
Wood qualified Sally (by David's Moe x Aled Owen's Roy) on 176 points.
Both had great runs.
On the last day, Richard Hutchinson qualified his second dog Fly
(homebred by Wenndale Roy, out of Homeland Jan) on 167 points. Ray
Edwards gained one point more with Bill (Alastair Wilkinson's Skye x
Snow) later in the morning, after another good finish. Next to qualify
was Vic Morris with Gilfach Mac (Philip Hugh's Tweed x Rosemary
Fahimi's Gilfach Liz) on 160 points. The winner of the day was Tom
Huddleston with Udale Jet (homebred, by Aled Owen's Roy, out of Maddie)
after an impressive start and finish. Last to qualify was James Gilman
with Bob (homebred, by Andy Corrigan's Jim, out of Peggy).
It was an exciting final at the end of the day that saw the finalists
run in catalogue order, omitting the single, due to the fading light.
Richard Hutchinson was first to run, with Sweep. He had a good outrun,
a tremendous run around the course, and a good finish. Gordon Watt ran
second with Huthwaite Moss. More points off the outrun, a missed cross
drive and the best finish. Tom Huddleston and Udale Jet had the best
outrun, and a run around the course to compete closely with Richard but
lost slightly more points on the fetch, drive and in the shed. It was a
close call, with just four points per judge between the top two runs.
Richard claimed most of the silverware trophies with Sweep, leaving
just the English Shepherds cup to Gordon Watt with Huthwaite Moss. "I
just feel lucky to have Sweep, the way he's been running for the last
couple of years. Glad to have not let him down at a big trial. He's a
trier, and honest. I blew him early and regularly on the gather in the
qualifying run, as I didn't want to leave anything to chance. In the
final, I blew him out, then in, on the gather. The sheep were unsettled
on the first half of the fetch, then once out of the hollow, it was
good work. A lively ewe in the ring was trying to upset things but we
got her sorted".
Thomas Longton adds another English Brace title to his belt, winning
with Spot and Tot. First to run, both dogs worked well together to set
a standard that was not to be beaten, despite determined attempts from
the other brace runners.
It is an exciting line-up to represent England at the International
Sheepdog Trials to be held at Stoneleigh Park in Warwickshire 6th-8th
September.
Results
ENGLISH NATIONAL: Judges: Mike Northwood (Hexham) and Joseph Relph
(Borrowdale): Championship: 1, Richard Hutchinson (Littledale) Sweep,
163 out of 200 points; 2, Tom Huddleston (Brookhouse) Udale Jet, 155;
3, Gordon Watt (Corbridge) Huthwaite Moss, 148.
Sunday team qualifiers: 1, T. Huddleston (Brookhouse) Udale Jet, 179
out of 220; 2, J. Gilman (Macclesfield) Bob, 173; 3, R. Edwards
(Chumleigh) Bill, 168; 4, R. Hutchinson (Littledale) Fly, 167; 5, V.
Morris (Craven Arms) Gilfach Mac, 160; reserve Matt Watson (Tadcaster)
Milo, 154.
Saturday team qualifiers: 1, G. Watt (Corbridge) Huthwaite Moss, 182;
2, D. Scrimgeour (Keswick) Fleece, 179; 3, D. Wood (Bamford) Sally,
176; 4, Thomas Longton (Quernmore) Tot, 167; 5, J. Cropper (Bacup)
Nidderdale Nidd, 163; reserve G. Fearon (Keswick) Meg, 162.
Friday team qualifiers: 1, R. Hutchinson (Littledale) Sweep, 183; 2, J.
Howard (Holmfirth) Wisp, 181; 3, Thomas Longton (Quernmore) Maya, 180;
4, Tim Longton (Quernmore) Bob, 174; 5, W. Cole (Tillingham) Kath, 170;
reserve R. Roper (Northleach) Pete, 169.
The Team Reserve is R. Roper with Pete, M. Watson withdrew Milo).
English Brace Champions: 1, Thomas Longton with Spot & Tot, 217 out of
280; 2, G. Bonsall (Slindon) with Jet & Tim, 188.
English Driving Champions: R. Hutchinson & Sweep.
English Shepherds Champion: G. Watt & Huthwaite Moss.
Author, Kim Gibson. Nidderdale Sheepdogs.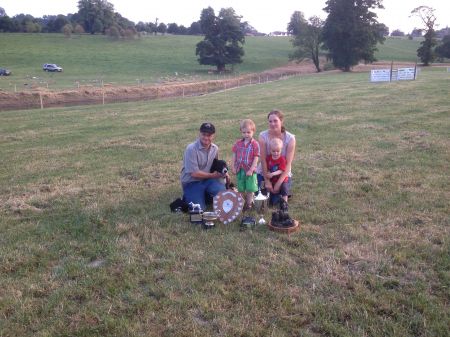 29th June Debdon Trial. Now moved.
Posted on 21st June 2013
Please Note the Northumberland League trial scheduled to be run at Debdon,
Will now run at Shiirlaw Hope Farm by the kind permission of Mr Tony Iley.
To enter check out trials diary page and ring Bevis Jordan.
Ringinglow Sheepdog association
Posted on 16th May 2013
After thirty years of holding nursery, novice and open trials the sad decision to end the Ringinglow Sheepdog Trials Association was taken at the annual general meeting. The committee would like to thank all the competitors and sponsors who have supported us over the years and have enabled us to support several local charities. If anyone holds a Ringinglow trophy please contact Sheila Humphreys Tel 01433 651852 to arrange its return. Thank you all once again.
Litter born by Artificial Insemination born In New Zealand.
Posted on 10th January 2013
Congratulations to Deb Jackson and Killiebrae Beta 307243 on the arrival of 7 pups to Kevin Evan'n Mirk 272009 By Artificial Insemination.
Deb thanks Com-Bye for all our help and advice.
Ian Brownlie and Moe winning one man and his dog 2012
Posted on 24th September 2012
Check out the trials page and have a look at the latest videos.