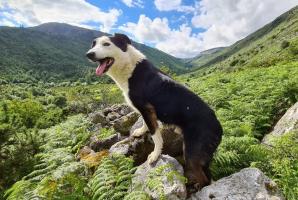 Jim
Owner: Paddy Fanning
ISDS No.
Pedigree: Download
Owners Comments:
Jim was 2nd in the Irish Nursery final in 2019 and 9th in the European Nursery Championship. Jim has won open trials in Ireland and England (Jed is his registered name)
Jim is dna clear for CEA, TNS, SN, MDR1 and most likely clear for IGS (Igs was not on the panel but his first 2 sons tested were clear)
Jim is a very cool dog and a lovely character, always in the same mood. He has plenty of power and stamina. he has nice very balance and feel but not too much eye which means that there is no stickiness in him around the lift, shedding, etc.
Jim is not just a trial dog, he is also a very useful work dog. I work him on the mountain and he is good to spot sheep at distance and a good outrunner. He is completely reliable and dependable over long days and difficult ground on the hill and in testy situations.
Jim's very first 2 sons made a combined price of €10,000, at 7 and 9months of age.
Ordering Information
In most cases the semen will be sent in a 12 Kgs dry shipper. The shipper costs over £1000, so to keep transport costs to a minimum we will hire the shipper from the storage Veterinary clinic on your behalf. The shipping quote will include the tank and semen plus the return flight of the tank to the Vets. The semen is safe for up to 21 days using this method should there be any hold up in transit due to weather or Customs. In some cases the semen can be sent using a disposable shipper. This keeps the semen frozen for 4 days and can be used on short trips if we are confident the shipping company can deliver with no hold ups.
The semen is stored with different Vets due to where the dogs were collected. In some cases we can join other shipments to share transport costs. If we know of another shipment that you could join it may incur moving the semen by courier across Britain to the shipping Vet. The usual cost of this service is around £100 (Sterling) but it could save you twice this amount in shared shipping.
All semen collected and offered for sale on Come-Bye is expertly taken and frozen by competent specialist Veterinarians. At no time is it interfered with and is kept within the confines of each practice. All storage tanks are checked regularly and inspected by professional companies. The semen is of top quality and not offered for sale if the Vet has any doubts.
If there isn't a dog which you like on the register please feel free to ask about any you would like collecting from.